RELEAFY GLOW 2-in-1 Enail Vaporizer
is a versatile vape kit that has two ways to be used.
One being is Enail which can be paired with 10mm, 14mm, and 18mm female joints of water pieces. The other one is a vape pen which is incredibly portable standing at about 4.6 Inches to fit in your pocket for on-the-go use.
GLOW has a large 1000mAh battery that can last all day and variable voltage ranging from 3.4V to 4.2V, so you can choose between lower temp flavorful hits or high temp clouds. It also features adjustable airflow and an isolated airflow path.
The whole kit is packaged up in a perfect little travel zipper case which is high quality and feels good to the touch.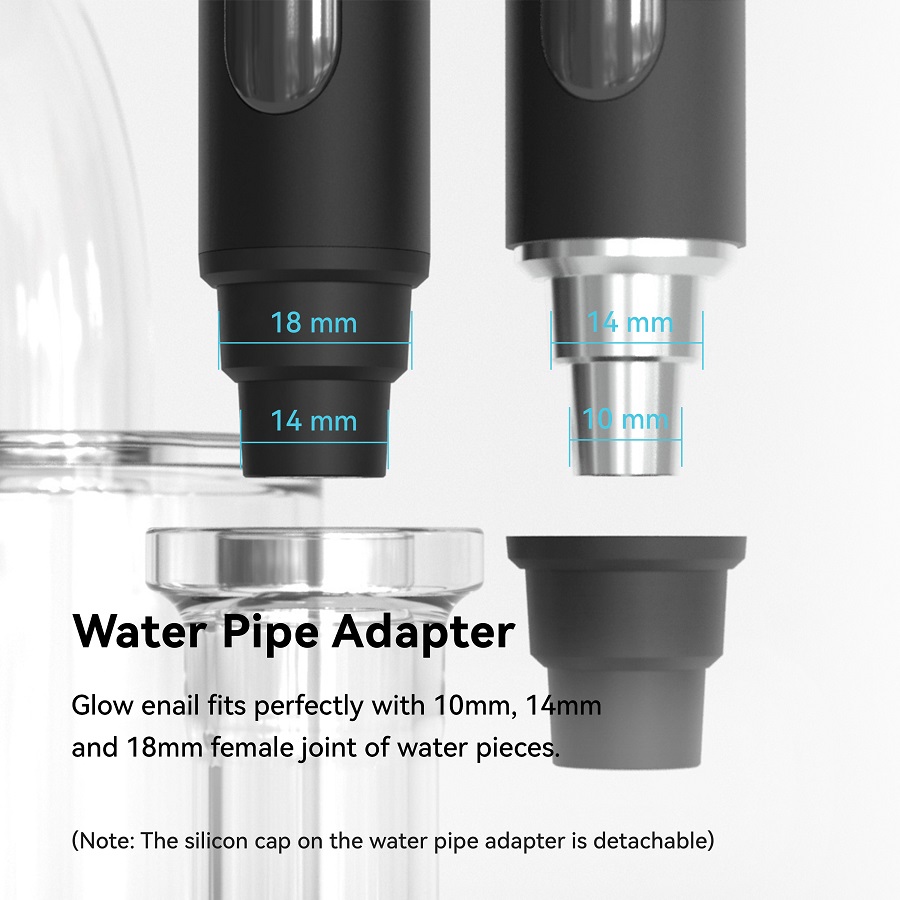 Key Features:
2 Operational Modes: Enail & Vape Pen
Heat Function: Automatic &Manual
Compatible with 10mm, 14mm, and 18mm Female Jointed Water Pipes
Adjustable Airflow
Isolated Airflow Path
70min Fully Charge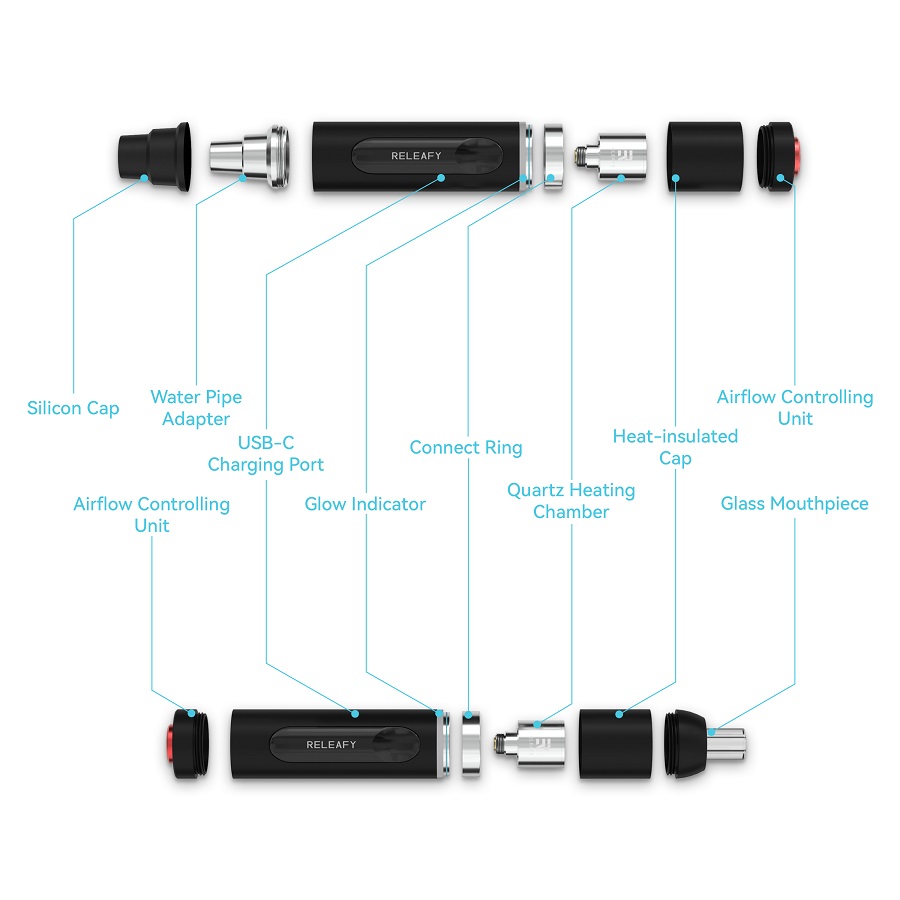 Specifications:
Enail mode: Φ22*118mm/ Φ87*4.65in
Vape pen mode: Φ22*116.5mm/ Φ87*4.59in
1000mAh Internal Battery
Voltage Settings: 3.4V/11W-8V/14W -4.2V/17W
Charging Port: USB-C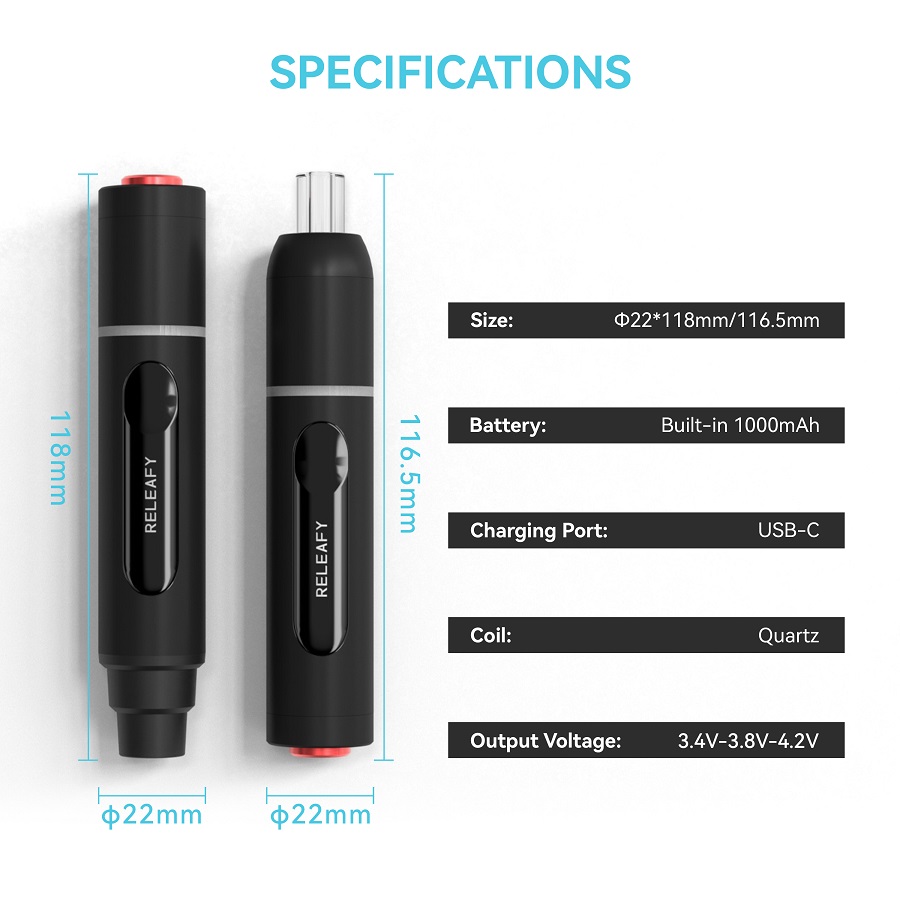 How To Use It:
1. Take off the cap and load concentrates
2. Click twice to activate auto-heating
3. Press the airflow-controlling unit to let more air in.
Releafy Glow 2-in-1 Vaporizer PACKAGE LIST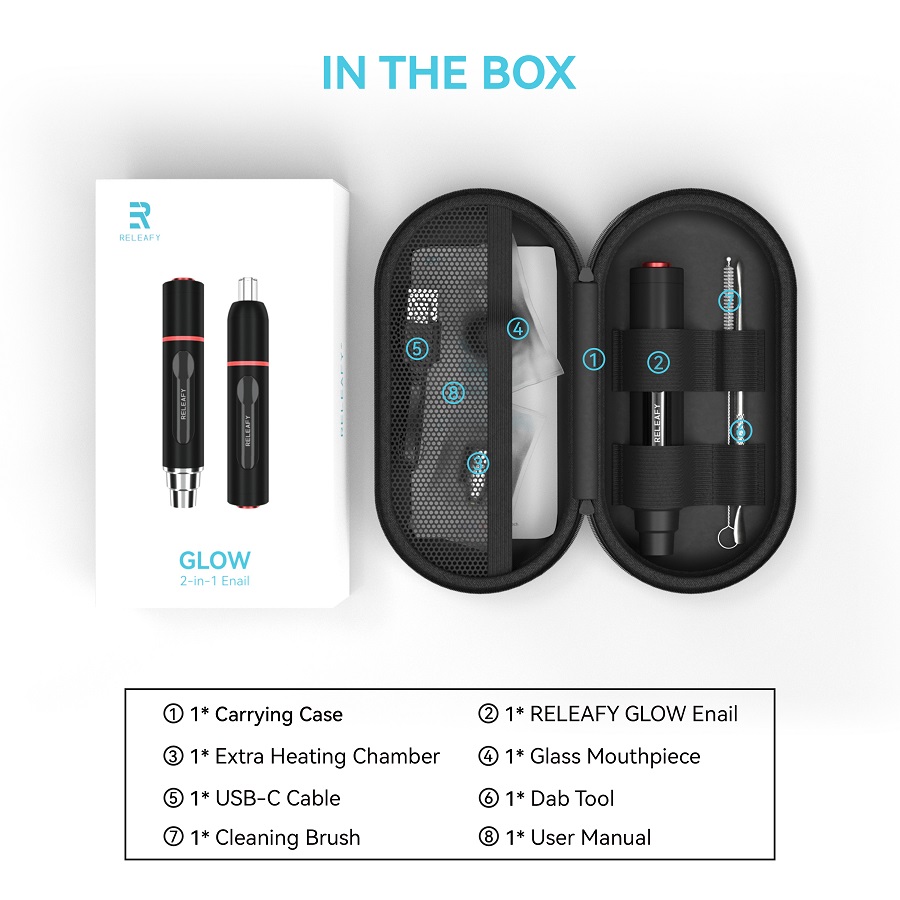 1 * Carry Case
1 * Releafy Glow Enail
1 * Extra Heating Chamber
1 * Glass Mouthpiece
1 * USB-C Cable
1 * Dab Tool
1 * Cleaning Brush
1 * User Manual
---
Glow with other accessories options:
Glow 2-in-1 Vaporizer Chamber Set and Optional Accessories
---
FAQ BEFORE CUSTOMER ORDER RELEAFY GLOW 2-in-1 ENAIL Pen?
How do I turn the Glow on/off?
The Glow can be turned on by pressing and holding the power button to quickly click the button 5 times. The device can be powered off by quickly clicking that same button 5 times.
How to switch the Glow to a different temperature and activate the auto-heating mode?
Click 3 times to circle through voltage settings.
Click twice to activate the auto-heating mode, the Glow indicator breathes when the device is working, wait for 2-3s then the chamber starts heating.
What is the specification of the Glow internal battery?
The Glow is built with a 1000mAh rechargeable battery, supporting Type-C fast charging.
When should you charge the Glow?
When you feel the chamber is heating well or the Glow light flashes red 10 times, it is a sign that the device needs charging.
How long can Glow operate with a full charge?
Glow can stand for 45 minutes of continuous heating after being fully charged.
View the video: https://www.youtube.com/watch?v=I5ESIoqTyJA
Can concentrate or dry flowers be used in Glow?
Glow is used for concentrating only.
What's the Glow warranty?
Glow has one year warranty, if you receive defective products, you can contact us or RELEAFY local distributors to return them directly and get a new one.
How to switch Glow to dab pen mode?
Tuition video link: https://www.youtube.com/watch?v=upoxs3tcxt4